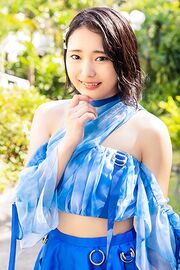 Ishimaru Chika
is a member of
SUPER☆GiRLS
. She joined the group with the fourth generation on December 19, 2018.
Profile
Name: Ishimaru Chika (石丸千賀)
Nickname: Chikapi (ちかぴ)
Birthday: March 29, 1996
Zodiac: Aries
Blood Type: A
Member Color: Supreme Blue
Hobbies/Skills: Classical ballet, origami (member of the Japan Origami Association), digital drawing
Favorite Idol: Ogura Yui, Minase Inori, Wa-Suta
Favorite Non-Idol Talent/Artist: Ogura Yui, Minase Inori
Express Yourself in Two Kanji Characters: 童顔
Future Dream: Go to overseas Japanese pop culture events
Charmpoint: Capybara-like sleeping face
Best Subject All
Worst Subject: None
Favorite TV Show: Ame Talk, London Hearts, late night anime, Mezamashi TV
Favorite Food: Melonpan, tonkatsu, cheese
Least Favorite Food: Octopus, squid
Favorite Color: Royal blue
Favorite Sports: Nonathletic, but likes dance
Favorite Brand: UNIQLO, san-x
Favorite Country: Russia, Japan
Favorite Manga/Anime: Gochuumon wa Usagi Desu ka?, Non Non Biyori, Yurucamp, Blend S, Kiniro Mosaic, Gintama, Kishuku Gakkou no Juliet, Mahou Shoujo Madoka☆Magica, NEW GAME, Mahou Shoujo Ikusei Keikaku
External Links
Community content is available under
CC-BY-SA
unless otherwise noted.