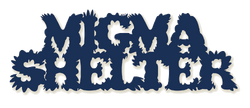 MIGMA SHELTER (ミグマ・シェルター) is a Japanese female AqbiRec idol group formed in February 2017. The group describes themselves as an idol group who dances with psychedelic trance[1] and release music with strong trance-based instrumentals.
They went on hiatus on July 8, 2018, after everyone but one member had graduated from the group. New members joined the group on March 8, 2019, and has resumed releases.
Members
Current Members
Former Members
History
On August 9, Tanaka Yuji and Taniyama announced the launch of a new group and started auditions for recruiting members.
In late October Amari and Kotejun passed the audition for the group. Five of the other audition winners later ended up forming the group There There Theres.
On December 31, it was announced that former Bellring Shoujo Heart member Kanra would be joining this new group as well.
On January 10, the new group participated at LOFT9 Shibuya in the Bellring Shoujo Heart Shin Member & Aqbirec Shin Unit Member Saishu Audition show.
In late January, Seisei and Mimimyu were announced to have passed the Bellring Shoujo Heart member audition and Komachi who passed the New Unit member audition. All 3 members ended up joining the new unit instead while the Bellring Shoujo Heart group was renamed to There There Theres.
On February 25, Kanra changed her stage name to Yoneko.
On March 5, it was announced that the new unit would be called "MIGMA SHELTER.
On April 16, the group performed their first rave at Shibuya WWWX as part of the AQBIREC sponsored event "Upstairs Down Vol.1".
On July 15, their first single "Svaha Eraser" was released. On the same day, they held their first release event with Lyrical school at AEON Mall Makuhari Shintoshin Grand Mall. 500 CDs were available at the event.
On July 31, it was announced that the group had been signed to the agency Perfect Music.
On August 31, it was announced that the group was recruiting new members and that Yoneko would no longer be the leader at the end of September and a new leader would be chosen at some point.
On September 8, it was announced that their first EP ORBIT EP would be released in December and that they would perform their first tour entitled "ORBIT TOUR" in Tokyo during January 2018.
On October 29, Popo Popo Po Popo Jr. was revealed to be a new member at the event "AQBI New corner".
On November 25 at the Perfection event held by Perfect Music at the Tokyo Kinema Club, it was announced that Mimimyu was the new leader and Popo Popo Po Popo Jr. was the sub-leader.
On December 31 at the AQBI DIG 04 event, Yoneko announced that she would be graduating from the group in February 2018.
On January 2nd, their first one man live "ORBIT TOUR 2018 HIMEHAJI MIX in TOKYO (TSUTAYA O-WEST was held.
On February 5th, a remix of Mo'Strain by

Dubscribe

was released as a free download on Soundcloud.[2]
On February 10th, Yoneko graduated from the group at an additional performance of their one-man live at Shibuya WOMB.
On February 24th, Mimimyu changed her member color from Cinderella Pink to Heroine red.
On March 31st, Seisei withdrew from the group at "Moksha" (Shinjuku MARZ).
On April 8th, the group performed at "Gyu Noh Fest Spring SP Road to Tochigi 2018 <Octagon Speaker's Amazing Sounds vs Live Idol!>".
On May 27th, it was announced that it will be temporarily suspended starting on July 8th When the activity resumes, it will be a new formation with new members, and during that time, Mimimyu would be performing solo. Popo Popo Popo Pop Jr., Kotejun, and Amari would be graduating on June 3rd and July 8th.
On June 30th, it was announced that Komachi would be transferring to Gu-Gu LULU.
On July 8th, at the "Yarukya Cabinet ~ Midsummer Secret Kiss ~" live, it was announced that Brazil would be joining the group.
On July 15th, Mimimiyu started solo activities under the name "Mimi Misheruta". It was also announced that the group would be joining the label "MUSIC @ NOTE" for future releases.
On August 2nd, Mimi Miyu entered Shueisha "Weekly Young Jump" sponsored by "Sakidru Ace SURVIVAL SEASON 9". She appeared on the cover of the magazine.
On August 19th, "PERFECT MUSIC presents PERFECTION vol.2" (Shinjuku BLAZE), Mimi Shieruta had her last solo event and MIGMA SHELTER under the new formation had their first rave.
On March 4th, it was announced that Arisaka Reina from There There Theres would be joining the group alongside the new members.
On March 8th, the new members debuted at Shibuya ANSWER (Shibuya Glad). Rere did not debut with them though.
On March 19th, Parade's End was released. It was the first single to feature the new members.
On April 19th, Arisaka Reina debuted with the group under the name "Rere" at "祝!有坂玲菜MIGMA SHELTER加入記念・単独RAVE「in da Rainbow」".
On May 3rd, "KAMIKIRI DEATH RAVE" was held at My Navi BLITZ Akasaka).
On May 21st, it was announced that Misonee would be on hiatus from the group for the time being.
On July 4th, it was announced that Shyshyko would be withdrawing from the group. She would still be included in their single "Names" as it was recorded before she withdrew.
On September 7th, announced Nananara would be joining the group as a new member.
Discography
Studio Albums
EPs
[2017.12.27] ORBIT EP
Singles
Limited Singles
[2017.10.13] Amazing Glow
Remix Singles
[2018.02.08] Mo'Strain (Dubscribe Remix) (Digital)
[2020.05.24] TOKYO SQUARE (Dubscribe Remix) (Digital)
Concerts
[2018.01.02]

ORBIT TOUR 2018 HIMEHAJIMIX in TOKYO

[2018.01.21]

ORBIT TOUR 2018 HIMEHAJIMIX in OSAKA

[2018.01.28]

ORBIT TOUR 2018 HIMEHAJIMIX」in NAGOYA

[2018.02.10] ORBIT TOUR 2018 + in TOKYO
[2018.05.26]

ONEMAN Rave "Adaptations"

[2019.04.19]

Iwai! Arisaka Reina MIGMA SHELTER Kanyuu Kinen Tandoku RAVE "in da Rainbow'

(祝!有坂玲菜MIGMA SHELTER加入記念・単独RAVE「in da Rainbow」)
[2019.05.03]

KAMIKIRI DEATH RAVE Mimimiyu Nari no Daiseitan

(KAMIKIRI DEATH RAVE・ミミミユなりの大生誕)
[2019.09.28]

Psy Spirit Tour in OSAKA

[2019.10.06]

Psy Spirit Tour in NAGOYA

[2019.10.19]

Psy Spirit Tour in TOKYO ONEMAN RAVE
Gallery
References
External Links