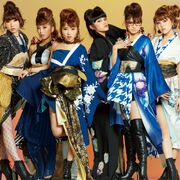 Osaka☆Syunkasyuto is an idol group formed in 2012 under Happy Time. The group is also as referred as Syukasyun (しゅかしゅん) by its staff and members. The current group center, as well as the lead vocalist is Maina.
Label: Fujiyama Project Japan.
Biography
They were originally under the name "Manyo Syaonyan"(万葉シャオニャン) and were active from 2009 to May 2012. GEM's Minamiguchi Nana was a member at this period. She announced her graduation, and she was transferred to Avex in 2012.
The reboot of the idol unit took place in May 2012. Since then the unit name has been changed to Osaka Syunkasyuto in May 2012. However, the official English name was not disclosed back then. Therefore many English website still use the direct translation as Osaka☆Shunkashuto from Japanese Kanji. In 2017, the listed unit name is still "Osaka Shunkashuto" on iTune, Amazon(USA), Spotify, and Google Play.
Maya(黒木麻耶) withdrew in February 2015 due to family reasons.
Osaka☆Syunkasyuto's drew the public attention in their participation in Tokyo Idol Festival 2015 in July. The attendance at their live performances increased from 170 to 550 people.
Their first exclusive live performance held in August 2015 at Shibuya Club Quattro, Tokyo.
In October 2015, Osaka☆Syunkasyuto signed with Fujiyama Project Japan label. Around the same time, the girls start hosting a new variety show Katayaburi (カタヤブリ) on Kawaiian TV.
Rina graduated in October 2016. She announced her plan of going back to school and pursuing the career path of a certified nurse.
Members
Current Members
Former Members
Discography
Albums
Best Albums
Live Albums
Mini Albums
Singles
External Links