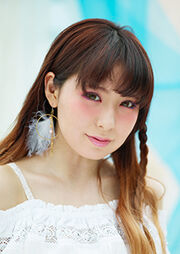 Satake Uki is one of the two remaining founding members of 9nine.
Profile
Name: Satake Uki (佐武宇綺)
Nickname: Ukkii (

うっきー

?

)
Birthday: March 8, 1992
Discography Featured In
Albums
Singles
Works
Movies
[2010] Re:Play-Girls
[2011] Gyokairui Yamaoka Maiko
Dramas
[2006] Wagahai wa Shufu de Aru
[2007] Kaijoken Musashi
[2008] Koizora
[2009] Etai! Bokura no Yume Choudou Inu ga Oshiete Kureta Chikara -Asunaro Gakkou no Monogatari-
[2009] Boku no Himitsu★Heiki
[2010] Kaibutsu-kun
[2010] Atsuizo! Keko ga ya!!
Television
[2007 - Present] Uchi Star Collection
[2010 - 2011] Premiere no Soukutsu
[2010 - 2011] Ukiuki! MIX Girl
[2010 - 2011] ONGAX
Voice Acting
[2010] Rainbow Nisha Rokubou no Shichinin (Narrator)
Photobooks
[2010] 1st Shashinshuu "Ukishiki♥" (1st写真集『うきしき♥』)
[2012] Satake Uki to 2 Haku 3 Nichi SATAKE UKI 2nd Photobook (佐武宇綺と2泊3日)
Idol DVDs
[2009] Miss Magazine 2009 Satake Uki (ミスマガジン2009 佐武宇綺)
[2010] Kangaroo Janai yo, Ukkii da yo. (カンガルーじゃないよ、うっきーだよ。)
[2011] Ukkii SUMMER! Tobidase! Satake-san (うっきーSUMMER!飛び出せ!佐武さん)
[2011] Uki☆Doki! (ウキ☆ドキッ!)
[2012] Ganbare Ukkii! Anata wo Furimukasetai! (ガンバレうっきー! あなたをふりむかせ隊!)
External Links
External Links