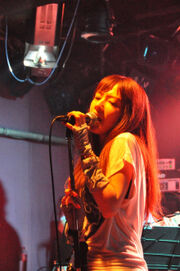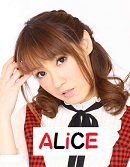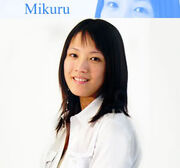 Sotohana Risa
is a singer. She is best known for her work in
BeForU
. As of 2007 she has graduated from the group. She is currently part of the group
Fuwafuwa Shisugite Wakarimasen.
and an unsigned band called "
USAGI DASH
". During her time in
BeForU
, she was commonly known by fans as "the other new girl" or later as the "little girl with the big voice".
History
2004
Auditioned for Benami 2004 audition. She later joined the group BeForU.
She debuted in the song Scenario.
2006
She sang the song Matenrou in BeForU II.
Profile
Birthname: Takahashi Arisa (Supposedly)
Stage Name: ALiCE
BeForU Stage Name: Sotohana Risa (外花りさ), Mikuru (Audition Name)
Nickname: Lisa
Birthdate: January 28, 1988
Birthplace: Gunma, Japan
Blood Type: A
Groups:

BeForU (2004 - 2007)
Fuwafuwa Shisugite Wakarimasen. (2011 - Present)
USAGI DASH (2012 - Present)
Hobbies: Music, Music games, Piano
Favorite Artists: Asaki, Shiina Ringo, ASIAN KUNG-FU GENERATION
Favorite Movies: Seimin, Keizoku
Favorite Flower: Cherry Blossom
Discography Featured In
Discography
Works
BeForU
Sotohana Risa
Trivia
She often composed her own music and lyrics.
External Links